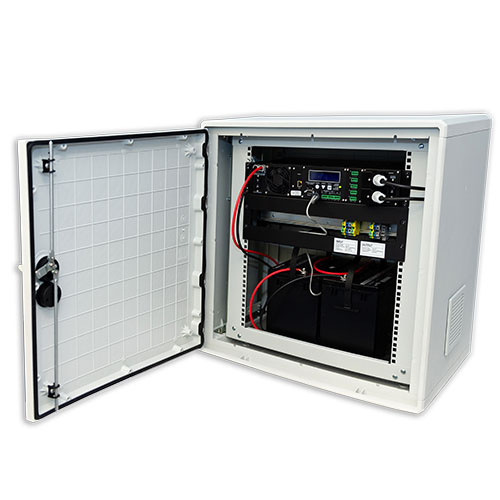 Think smart – work smart. For more information contact our alpha outback energy team.
---
Support & Downloads
---
Product Highlights
IP44 or IP55 Protection class
Output Power 350, 650, 1100 and 2000 Watts
Vandal Resistance Rate IK10
High flexibility through standard and customer specific configurations
Wide operating temperature range of -40 °C to 74 °C suitable for the most extreme operating environments
Temperature compensated battery charging protects batteries from overcharging at extreme temperatures, extending the life of the battery
External communications via RS-232 port and Ethernet SNMP interface provides local or remote monitoring and control
Pole- / Wall Mount (S) or Ground Mount (G)
Active ventilation system (IP55 System)
AC Output distribution on DIN Rail (IP55 System)
---
The ATROX 44 / 55 is a line of rugged UPS power systems used worldwide in the most demanding en- vironments where clean backup power is needed, designed to perform in the most extreme demanding environments. Our ATROX 44 / 55 ensures that equipment in security, communications, traffic, industrial environments and many other critical applications remains safe and protected from power disturbances.
Thanks to its powerful programmable battery charger, the ATROX 44 / 55 is capable of providing the runtime you need. Our ATROX 44 / 55 provides clean uninterrupted backup power in an all-in-one IP44 or IP55, keylocked and vandal resistant enclosure. The ATROX 44 / 55 comes along with cycle-proof, deep-discharge-proof and maintenance free 10-12 years design life GEL batteries.