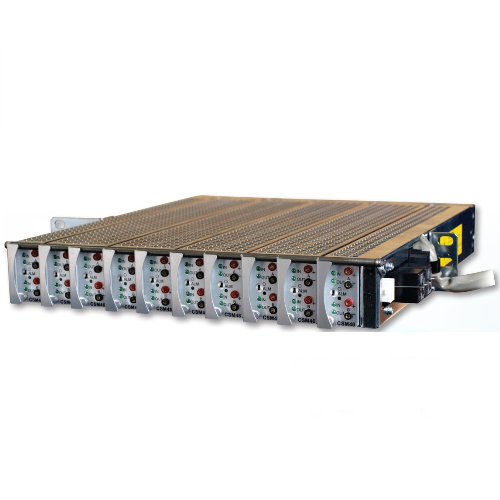 Think smart – work smart. For more information contact our alpha outback energy team.
---
Support & Downloads
---
Product Highlights
+/-190V to 48V DC-DC Down Converter for remote/line powering applications (RFT-V)
Utilize existing copper pair networks for distributing power
Reduce truck rolls and operating expenses with no batteries at remote site
High reliability convection-cooled design and compact 1RU footprint (12" shelf)
---
The CSM46 is a +/-190V to 48V DC-DC converter system designed for remote sites in network or line powering architectures. The compact modular design makes the CSM46 ideal for remote applications such as xDSL and FTTx.
Network powering is a perfect solution for applications where AC utility may not be available, battery maintenance would be cost prohibitive, or remote enclosures may not have enough internal space or cooling capacity to accept a traditional rectifier and battery system. The CSM46 works seamlessly with the Alpha CSM36 upconverter to allow for complete end-to-end network powering.
The CSM46 is available in high power density 10-module and 4-module shelves. Standard system features include Form C alarm relays, front access connection points, connectorized cable harness options and front access test points for quick monitoring of incoming line voltage.
The CSM46 is the ultimate network powering solution that blends both high power density capability with extensive features. With over 15 years experience in designing network powering solutions, Alpha high voltage converter solutions also combine industry leading safety and reliability.
Available in the following configurations:
Shelf – Part number: 030-831-20-040
Converter – Part number: 012-554-20-040