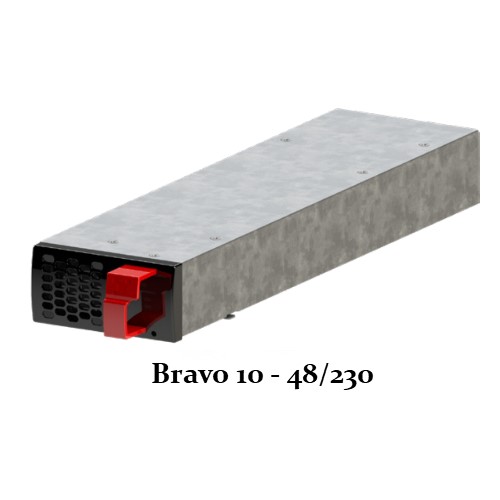 Think smart – work smart. For more information contact our alpha outback energy team.
---
Support & Downloads
---
Product Highlights
DC In (Range): 48 VDC (40-60)
AC In/Out (Input Range): 230 VAC (150-265)
Output power @ 50°C: 1.25 kVA / 1.0 kW
Up to: 40 kVA
Efficiency AC/AC: 96%
Efficiency DC/AC: 92,5%
Operating temperature: from -20 to +65°C
Dimension: 1U x 87 mm x 319 mm
---
Bravo 10 more than an inverter.
Our patented technology provides additional AC input to supply loads directly from the grid. As a result, you benefit from a secure power supply with an overall conversion efficiency of up to 96%. Our solutions are designed for modularity, reliability, compactness and cost savings.
Perfectly reliable
Reach the highest reliability thanks to:
0 ms transfer time (grid to battery);
Built-in Static Transfer Switch (no single point of failure);
Truly redundant (power & communication);
Configuration in parallel (no master/slave).
Very long close cooperation between Alpha and Outback Energy and CE+T allowing supervision of the inverter by the CXC HP controller.
Available in the following configurations:
Bravo 10 – Part number: T611730201
Bravo 10 – Part number (No AC In): T611730211