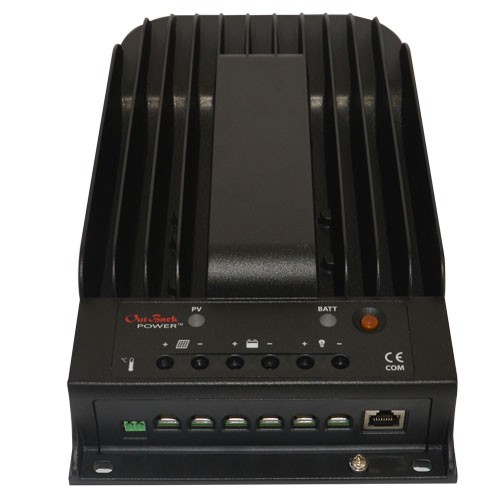 Think smart – work smart. For more information contact our alpha outback energy team.
---
Support & Downloads
---
Product Highlights
Ultra-Thin Design with Natural Heat Dissipation
4-Stage Charge with Advanced MPPT Output
Peak Conversion Efficiency of 97%
High Tracking Efficiency of 99%
Fast Sweeping Function of Entire I-V Curve
Extensive Electronics Protection
Diversified Load Control
Open Standard MODBUS Protocol
Optional Remote Meter Communications
---
The FLEXmax Micro Series of charge controllers incorporate maximum performance into a compact package.
Available in 40A model, the FLEXmax Micro offers advanced Maximum Power Point Tracking (MPPT) technology—which can increase charge efficiency by up to 30%—in a charge controller designed for smaller battery and load current applications.
The FLEXmax Micro Series offers peak conversion efficiency of up to 98% and high tracking efficiency of up to 99%. The die-cast aluminum chassis is designed to provide natural heat dissipation, increasing operating efficiency
The FLEXmax Micro works with Sealed, Gel, and Flooded batteries and incorporates a number of electronic protections including PV short circuit protection, PV current limiting protection, battery overcharge protection, battery reverse polarity protection and load short circuit protection.