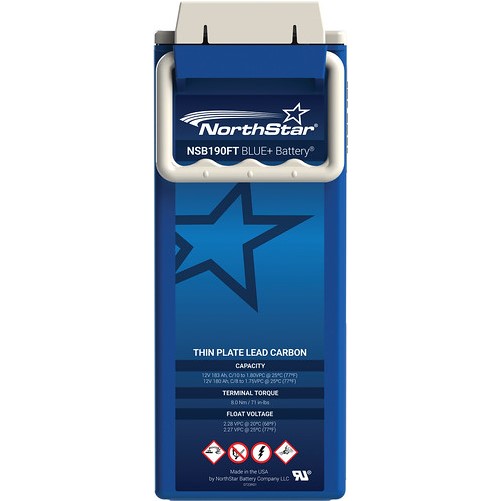 Think smart – work smart. For more information contact our alpha outback energy team.
---
Support & Downloads
---
Product Highlights
Exceptional PSoC cyclic performance 2050 cycles @50% DoD
Design life 12+ years at 20°C (68°F)
EUROBAT design life definition: Very Long Life (12+ years)
Ultra fast recharge
Shelf life of up to 24 months
State-of-the-art automated manufacturing ensures consistency and reliability
---
The NorthStar NSB BLUE+ (Pure Lead Carbon) is a front terminal 12VDC VRLA AGM battery offering a pure lead thin plate technology with an advanced carbon additive.
NorthStar BLUE+ is an innovative solution specially designed to withstand today's demanding off-grid and self-consumption applications. The BLUE+ is built using a Thin Plate Pure Lead (TPPL) technology, providing low internal resistance allowing it to accept higher charge rates and tolerant to higher operating temperatures compared to traditional VRLA AGM batteries.
This allows for a fast recharge acceptance, combined with the advanced carbon chemistry. The BLUE+ delivers outstanding energy throughput, and high cyclic life. It has the ability to operate in a partial state of charge (PSoC) environment. The resulting combined solution gives its users the benefit of a reduced operational cost compared to traditional VRLA AGM batteries. In addition, the BLUE+ requires no periodic watering, no re-torqueing of terminal connections and at the end of life, batteries are 96% recyclable.